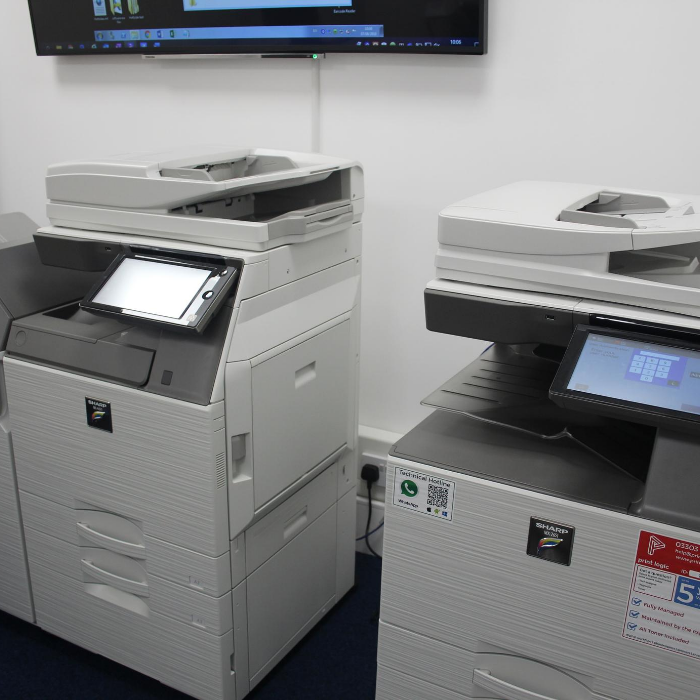 There are many different makes and models of photocopier. Most models are usually graded by the number of pages per minute which they can print and  the maximum paper size they can accept.
Each photocopier is a multifunction device, so as well as their normal photocopying purpose they can scan, fax, print and email. Some offer a range of unique functions and benefits for the user from cloud and mobile connectivity to workflow solutions and device management.
Print Logic have a wide range of photocopiers to choose from, and we'll help you to make an informed decision
A new photocopier is great for businesses which need a fast, easy to use device which will give them the maximum number of benefits possible.
Every photocopier provided by Print Logic will have been specially prepared to your specification, tested and commissioned by our service team, who will get everything ready so that it's able to simply be plugged in to your office and used immediately.
Choosing a new photocopier ensures that you get the very best device available with the latest features and benefits available from the model and manufacturer. As photocopier technology is constantly improving, a new device will be able to reduce energy usage, space, and improve your team's efficiency through clever software solutions our tech support team can integrate into your office.
A new photocopier is a great choice for any business looking to optimise their printing, copying and scanning and can be leased, rented or purchased outright.
Our range of refurbished photocopiers are used or nearly new devices which have been completely refreshed by our service team. Our engineers carry out an extensive service, fully refurbishing the machines to the highest standards ensuring that every device that leaves Print Logic meets our stringent quality standards.
A refurbished photocopier is a great option for businesses who are looking at shorter leases, rentals, or simply a lower cost device which will still be able to be used as effectively as a brand new one.
Print Logic follow the same process of preparing, testing and commissioning a refurbished photocopier as we do with a brand-new one, so our customers can enjoy a device which has been configured and prepared for them specifically.
We have a wide range of makes and models of refurbished photocopiers in-stock, which are all available for renting or buying.
Black and white photocopiers only use one toner colour – black. They produce monochrome photocopies, which is why they are called mono photocopiers.
These photocopiers are specifically designed for office use, and are especially useful in business sectors were colour printing is not essential. They come in a variety of capacities, from low to high volumes. Some models can copy / print at over 100 pages per minute!
As well as monochrome photocopies, colour photocopiers are able to produce rich coloured copies. These are extremely versatile devices that are able to satisfy the requirements of even the largest business 
We supply industry leading brands