Print Logic supply and maintain a large range of office shredder products. Our customers use them to benefit from increased security, reduced storage costs and a more organised office space.
We can also offer an annual shredder service contract, which works much like the service and maintenance benefits that we provide with a Managed Print Service.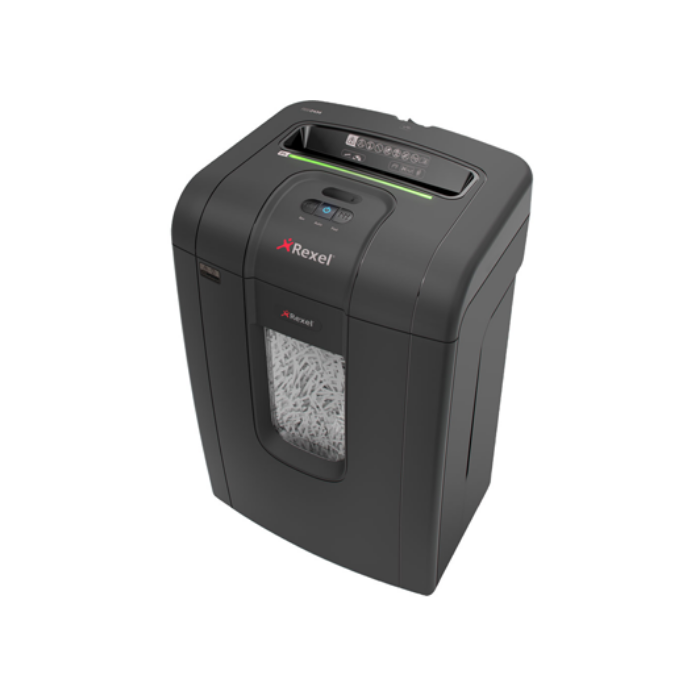 Shredders pull documents which need to be destroyed into a catch area usually found at the top of the device. The user feeds the documents in, and a system of rollers pull in the paper. Once inside, the document is cut into small pieces by special blades and then dropped into a bin.
There are several types of shredders, and each one destroys documents in a slightly different way.
There are many benefits to having a shredding machine right in your home. These shredders typically cut documents into vertical strips. The problem with this is that any criminal wanting to get your personal information and use it for identity theft can put together the document again and access the data on it.
Commercial shredders have blades that cut both vertical and horizontal.  This makes it more difficult to put back together and read it again. Most commercial shredders have a good capacity and only occasionally need to be emptied.
Large commercial shredders
 These are high capacity commercial shredders capable of handling large quantities of documents. They use a ream feed or hopper bucket to shred the documents. Like the other type of commercial shredders, this type of shredder cuts documents both vertically and horizontally
A shredder is one of the easiest office devices to use. They are simple to use and usually require little to no training.
When you receive your new shredder, a Print Logic engineer will install it and train your staff its  operation. Use of the device is simple just requiring the user to feed paper into it.
Take your documents and slide them into the slot at the top of the device. It doesn't matter which way up you feed it, but it's important to remember not to overfeed it, or the device might jam. Most shredders can handle paper, staples, cards and even CD's, but take care to check that things like paperclips have been removed from your paper before you put them in, as this may damage the blades.
The shredder will take your papers and start feeding them through the blades. After a while the shredder will fill up, when this happens turn off the shredder and remove the bin which contains all the waste paper. Empty this into a refuse sack and dispose of this in the correct place. Once you're happy the bin is completely empty, just insert it back onto the main body of the shredder, and turn the device back on.
The way to keep your shredder properly maintained varies from model to model, but the more complex tasks will be covered by a Print Logic engineer during regular visits. This is covered on any of our Managed Print Service plans which include a shredder as part of the package.
Print Logic supply and maintain shredders to customers across the UK. These devices supplement printing devices like Photocopiers or Printers and aid in larger solutions such as storage and cost reduction.
Although it may seem like a secondary concern at first glance, a shredder machine is critical to maintaining office security. Besides information on a company's customers and accounts, any details which are left in the open on paper are an open invitation to a data breach. Our customer in the legal, property, accounting, construction, education, and insurance sectors all benefit from the destruction of sensitive information once it has been archived and stored digitally.
Other benefits including reducing costs and maintaining an organised and tidy office are something that every business needs. Shredders can provide these benefits to every customer we help, and our experts can help identify the type, number and best location for your new shredders.
Print Logic specialise in helping customers in the UK achieve a more efficient and productive office, and shredders are a great way to supplement a photocopier or printer fleet which we provide. We can also improve the effectiveness of any existing hardware you might have, by replacing it with a brand new device.
We supply industry leading brands