PaperCut is a simple to use print management system designed to improve printing behaviour within your business.
The software helps reduce your print waste, improve document security and ultimately give you full overview and control of your printing, increasing your business efficiency.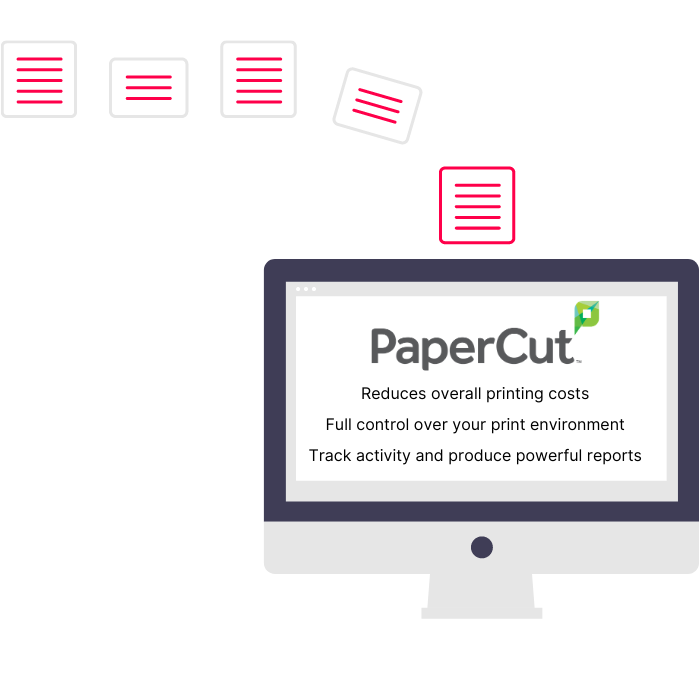 PaperCut incorporates easy to use tools that can be securely accessed anywhere on your network through a browser. These tools allow you to monitor and report on your printing activity across your organisation or individual departments.
PaperCut was designed with flexibility and scalability in mind. As your print requirements change over time, it can be configured to meet your needs. PaperCut print software is used by many of our customers, from businesses with large photocopier fleets to smaller companies with a handful of printers, it is able to improve their printing efficiency, saving them money and giving them full control of their print environment.
There are two variations of the software, PaperCut MF and PaperCut NG. MF stands for Multifunction and NG stands for Next Generation. The major difference between the two is that MF has the ability to interface with your multifunctional devices and integrated with your devices touch screen. This means it can track and control access on your individual devices.
You can access a full audit trail of your printing activities, allowing you to attribute the costs of printing to each of your departments or individual users.
PaperCut NG/MF has its own cloud printing solution called mobility print and can also integrate with other cloud printing technologies such as Apple AirPrint to incorporate printing from mobile devices.
You have full control to set up rules around your print environment, whether you wish to restrict users to print mono, enforce two sided printing or remove the ability to print certain documents, the choice is yours.
How to integrate into your business
We'll let the guys at PaperCut HQ show you how the application can integrate into your printing environment.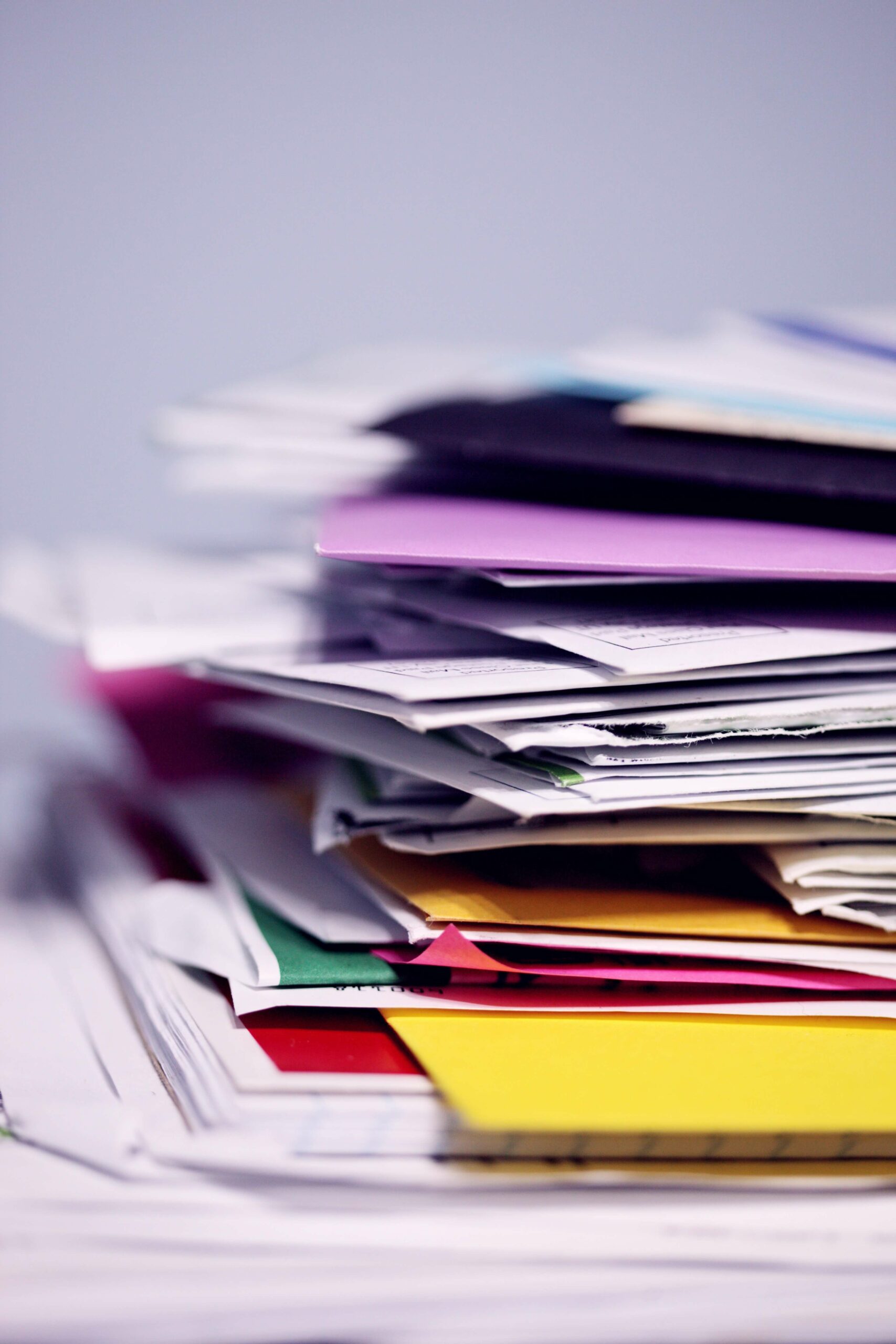 PaperCut NG/MF comes fully featured with enterprise-level security. You are also required to login with your individual credentials once at the printer or photocopier to release your print jobs. This means that sensitive documents can only be printing while you are physically at the printer or copier, removing the risk that documents are sat at the printer waiting to be collected.
The PaperCut print software allows you to see exactly what is being printed in your business and by whom. Departments and individual users can be accountable for their printing, with a full audit trail of your print environment. You also can produce high-quality reports in PDF, HTML and Excel format to share with stakeholders and drive decisions.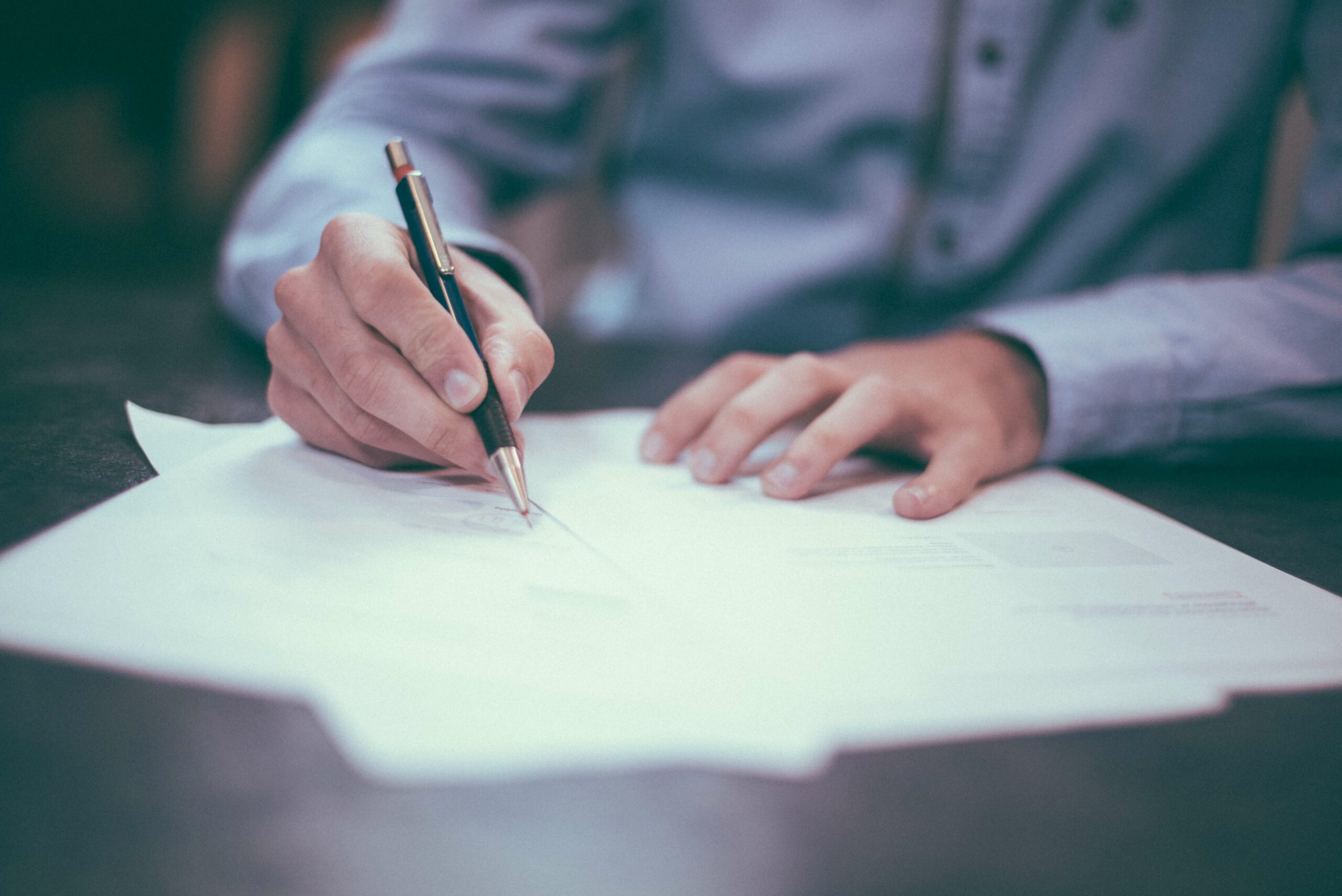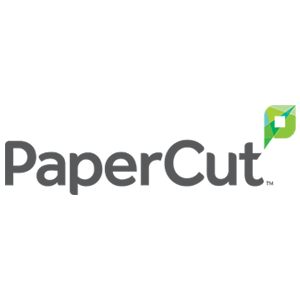 Ability to assign printing activity to individual users or whole departments.
Monitor the environmental impact your print environment against your business's green targets.
Protect sensitive documents with secure print release.
Full visibility of your printer usage with powerful web-based reports.
Simple deployment and user friendly interface.
PaperCut can scale with your business, from 5 to 500,000 users.
There are two versions of PaperCut, NG and MF. Both versions offer an easy to use print tracking and management solution and share many of the same features. Papercut MF adds hardware-level integration to the features already found in PaperCut NG.
Here is a run down of all the features that are available in PaperCut NG and MF:
Features

PaperCut NG

PaperCut MF

Print security and data loss prevention

Secure print release with ID card and/or MFD login

Secure print release with mobile phone

Print audit and system activity logs

Watermarking & digital signatures

Full print archiving and job view

Print quotas and reasonable limits

Shared accounts (billing by department, project, or client)

Advanced reporting and data access

Online payment gateways (pay for print)

Pay-for-print refund management

Print enablement (easier setup)

Find-Me printing (one single global queue)

Automated print queue and driver deployment

Location-aware print driver deployment

Mobile printing (iOS, Android, Chromebook)

BYOD printing (all OSs including Mac and Windows laptops)

VM support and clustering

Enterprise grade database support (e.g. MS SQL Server)

On-device MFD Embedded Software

Secure print release and Find-Me printing using ID cards and touchscreen

Device access control (control who can use)

Copy, Scan and Fax tracking and control

On-device Scanning & Capture

"One-click" Scan to Cloud (Dropbox, OneDrive, GDrive, etc.)

"One-click" Scan to Email or Folder

OCR & Digitisation (including PDF/A support)

Print scripting (customised print policies, etc)

Multi-region and language support

Print Rooms Management Option

Job submissions and ticketing process

Print room workflow and approval

Job progress notifications

Automatic job cost calculation and charging
PaperCut in Education - Case Study
How to reduce printing costs and waste in a large primary school
We had worked with the business manager of a local primary school for many years. When it was time for her to move on to a new role with a different school, she quickly identified issues with her new placement's current photocopier supplier. She needed to stop the spiralling costs that were affecting her ability to stay within the school's budget.
We were her first and only choice for a reliable cost-effective solution.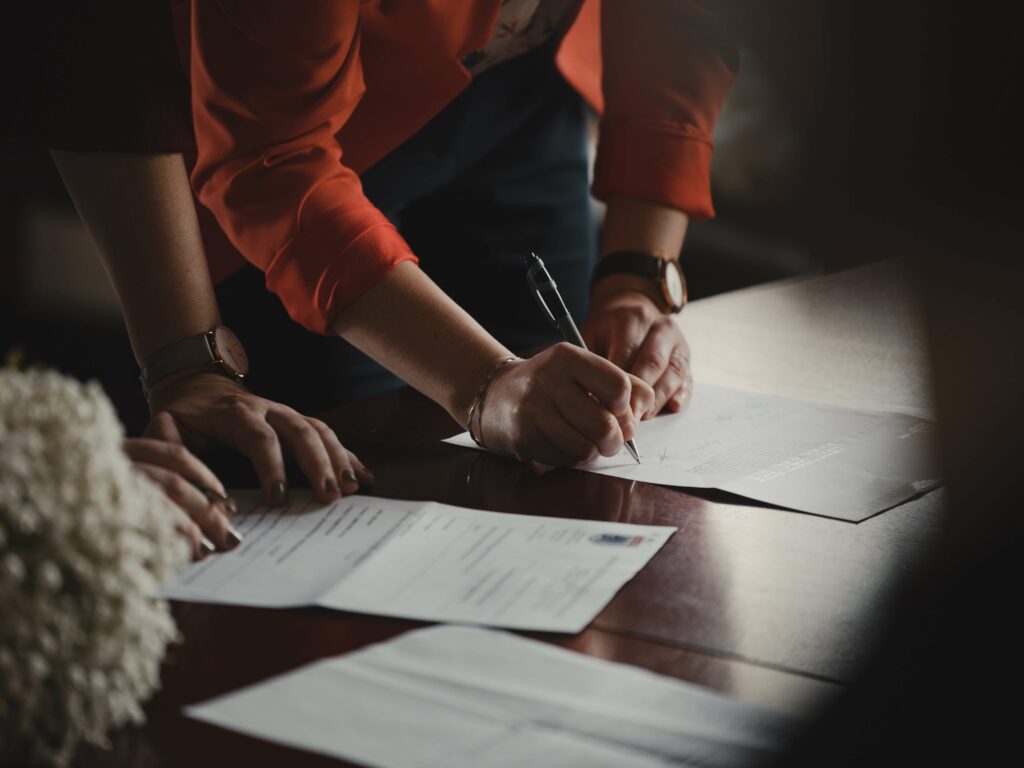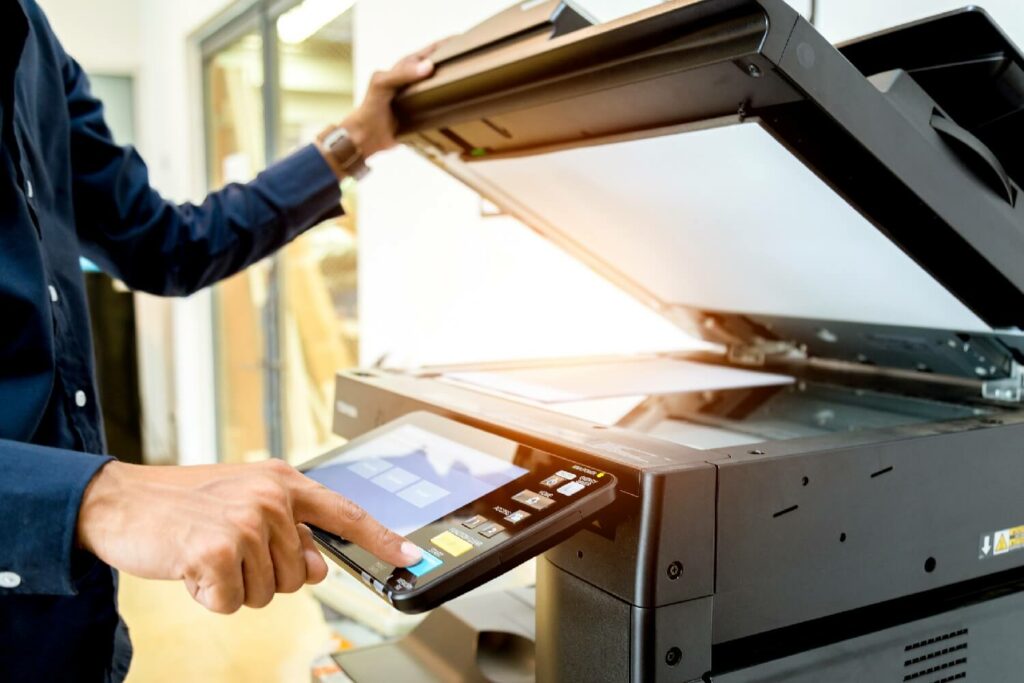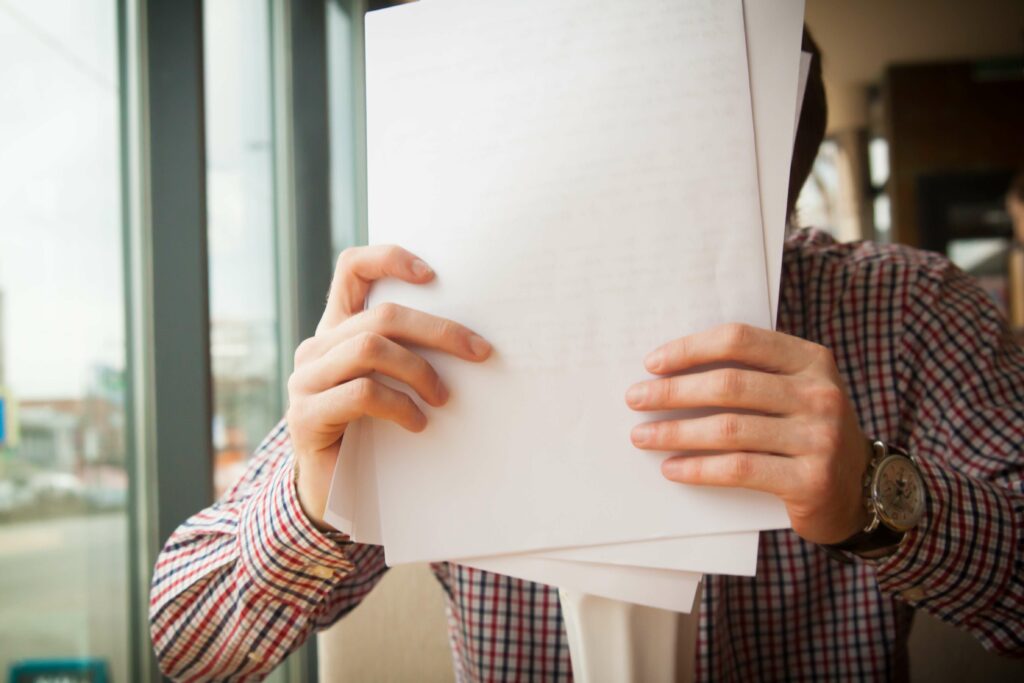 We observed the school's current printing process, here are some of the observations we made.
Print users did not understand the cost of colour printing. Did you know colour is substantially more expensive than mono? It takes multiple toners combined to create a colour on the page.
Students and staff were unable to print from any device, hybrid and remote working was not possible.
Jobs are sent directly to the printer for immediate printing. This resulted in wasted paper and toner when printing is forgotten and not collected. On average 17% of all print jobs are never collected.
There was no document security, if jobs are forgotten sensitive or confidential info could easily be leaked.
No printing visibility, monitoring who's printing what, when, and why, and how to control it.
The most reliable solution for Schools is PaperCut MF, this version of PaperCut includes the Education suite which is designed for K1-12 education.
PaperCut Education solves all the observations we made when looking at the Primary School's process and more!

First, PaperCut makes it very clear to the user the cost of printing. This is achieved in many ways.
The PaperCut client shows the current user balance, when a job is printed the user can see this cost in real time.
With print release enabled (more on this later) when users release a job the colour will be default black and white.
Some users are limited to £20 per month on print costs, you are encouraged to work within the budget.
We also encourage users to print black and white, users are prompted to confirm colour or given the option "convert to grayscale".
Papercut has solved Mobile and Bring Your Own Device (BYOD) printing solutions, enabling hybrid and remote working environments.
Mobility Print, users can quickly discover and print to any printer, without requiring assistance of a techie! No finding drivers, no joining domains!
Web Print, Users can upload their document to a simple web form, which can be accessed from any web browser.
Email to Print, simply send an email from any web connected mobile.
Document Security is a cornerstone of PaperCut, this is enabled via Print-Release (Which holds the job and stops immediate printing). With Print-Release enabled staff can only release the job at the printer. The question then is how staff release the job and how does the printer know who has sent the job?
Like most things with PaperCut, the answer is simple. Users can log in to the printer from their computer using their username and password. This is because PaperCut integrates seamlessly with Windows Server and Azure AD.
We can make things even easier by installing a swipe card reader on the MFP. Now the School can use their swipe cards (used for building entry) to log into the printer. Authentication is now as simple as waving the entry card near the integrated card reader.
Finally, PaperCut enables a great deal of Printing Visibility. You are able to track the usage of all users on an individual basis.
We set up the PaperCut Dashboard for the business Manager, this smart interface not only gives you an overview but can also be a powerful tool for user management.
To go one step further we also set up a scheduled report to be sent to all Admin staff, this report includes the list of print users their usage for the month to help you manage your printing costs.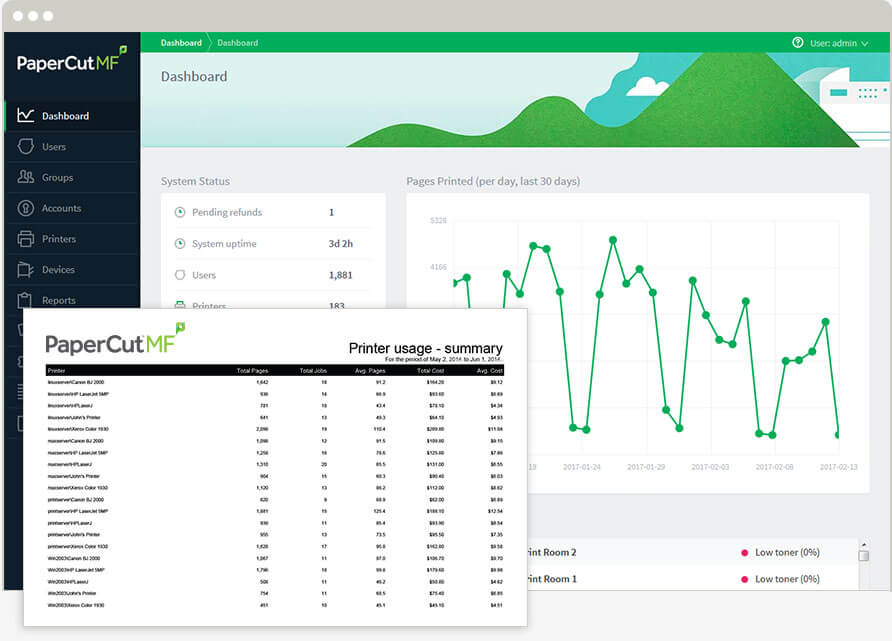 Are you looking for more information on integrating PaperCut into your existing infrastructure or as part of a printer lease, photocopier rental or managed print solution? Talk to one of our friendly printer experts, who'll work with you to bring you the latest technology for less. We pride ourselves on our customer support and saving you time and money.