What is PaperCut print software?
Secure printing for every platform that just works.
Control and track all of your printing and scanning activity on your Multi-Function Printers. PaperCut print software is designed to manage user access based on the function within your business or take control with Find-Me print release. You can even implement copy quotas, charges and per-page costs.
PaperCut print software is packed with features to help you save, whether you have 5 users or 500,000. Talk to us today to find out how PaperCut can cut your paper and toner usage as well as a whole lot more.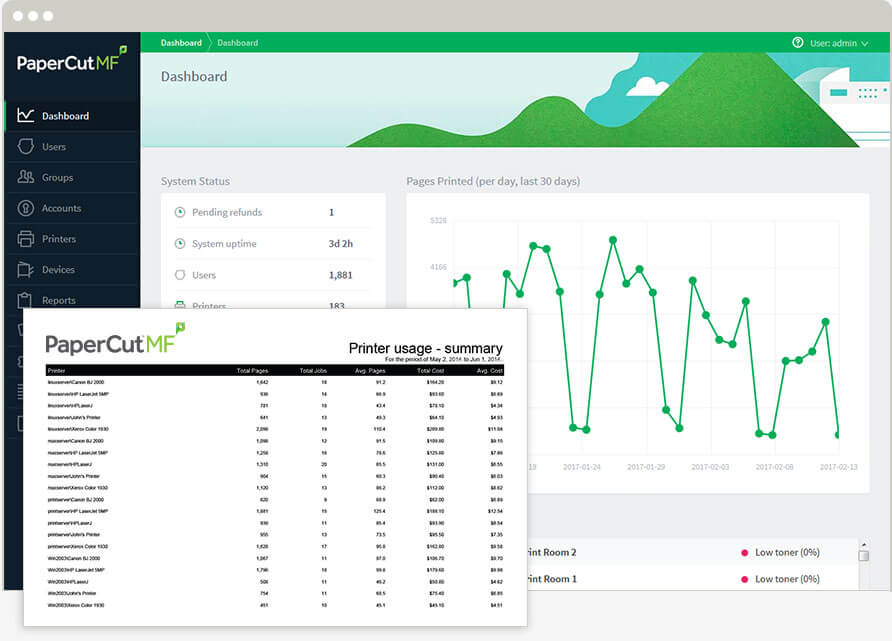 Find-Me Print release combines the convenience of not needing to choose the correct printer when printing with reducing prints accidentally sent to an incorrect or inconvenient printer, saving money and the environment.
Simply send your documents to print then go to the printer you want to collect them from, swipe your card or pop in a PIN, confirm the document and collect your print.
The benefits of Find-Me printing extend beyond the end-users though, System Administrators only have to deploy one queue. Roll in a new printer and there is nothing user related to update.
Find-Me from PaperCut also increases the security of prints. Confidential documents will no longer sit on the printer waiting to be collected available to be read by anyone or worse, going missing.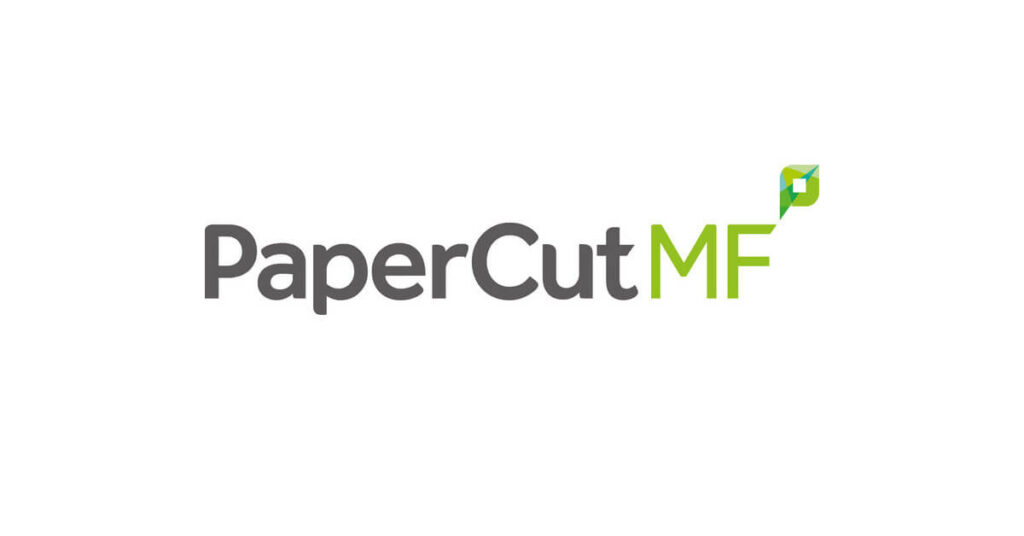 With End-to-end encryption supported on the network by PaperCut print software, security is in every step of the print process, from the user's device; to the print server; to the printer, and then to the user's hand. Protection through every stage of the process from "I want to print" right through to "I've printed this".
Add security and traceability to printed documents with a watermark, this can automatically add a username, timestamp, digital signature, or other metadata to every page printed. This encourages responsible printing and ownership of documents.

PaperCut MF sits over the manufacturer's interface to make scanning a simple process to get a perfect scan. PaperCut adds embedded software to your Multi-Function Device, the on-device software is complemented with secure cloud services to deliver OCR (Optical Character Recognition), Image correction and delivery to cloud storage or your local storage, securely and easily.
With the most popular features set ready to go from the beginning
Text searchable documents with Optical Character Recognition (OCR)
Split into batches to create multiple separate documents from a single scan
Blank pages are automatically removed
Image enhancements
De-speckle
Straighten
Pre-set, one-touch scans for consistent results
How will PaperCut print software benefit me?
Encourage good printing practices.
Black and White/Greyscale printing.
Double-sided printing.
Reduce paper waste.
Reduce uncollected printouts.
Enhance device security.
Enhance document security.
Track and control all Print, Copy, Scan and Fax activity.
Implement copy quotas, charges, and per-page costs.
Allow for cash payments of Print, Copy, Scan and Fax – for pay-for-print environments.
Bring Your Own Device (BYOD)
Users can print from any device, mobile phone, tablet, iPad, laptop and even a Chromebook. Supporting printing from a multitude of different devices is part of today's printing challenges, with a wide pool of device types being used to create documents that need printing. Users need to be able to quickly and simply set up to print from their device. PaperCut print software removes the complexity and simplifies the process of printing in a BYOD environment.

Reduce your footprint, costs and environmental impact. PaperCut print software is designed to reduce paper and print wastage. While paper wastage is far from the only thing PaperCut helps to reduce this is a key feature of the software. Sustainable printing with PaperCut helps reduce paper, toner and power usage.
Printing is still an important part of any office, paperless offices still haven't been adopted fully, almost every size office run printers as an essential function. PaperCut print software helps through smart printing features, nudges to help users change behaviours and flexible print policies to drive compliance through friendly pop-ups prompting users to print double-sided or greyscale where possible.
Through a wide selection of customisable reports, you can see exactly how much has been printed. With over 80 one-click reports available for online viewing, exporting or printing you can have great visibility of your print use. Custom reports can easily be created to make sure you are getting the most applicable data for your needs.
Viewing the reports is a simple process, they can even be emailed directly to specified people on a regular schedule, removing any need to manually create reports.
As a Reseller of PaperCut print software, we are here to help you get the most out of your print environment, ensuring you get the right version of PaperCut and are set up to take the best advantage of the features and reporting to reduce your waste and costs. Contact us to talk to our experts to find out more and get your PaperCut print software.