The BP-50C31 A3 colour MFP delivers effortless productivity, security and sustainability. It is a perfect print solution for a busy office.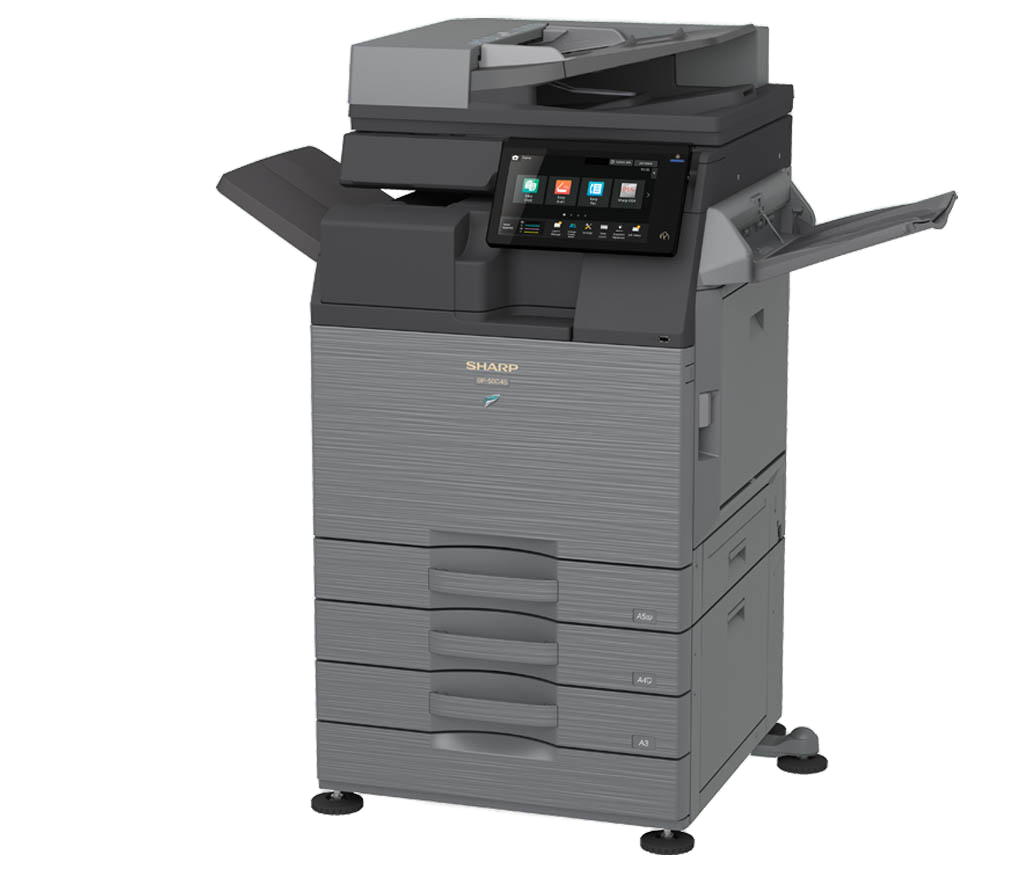 Perfect for a growing business
Print, Copy, Scan, Fax, File
31 pages per minute
6,300 sheet max paper capacity
10.1-inch tiltable colour LCD touchscreen
Microsoft® Teams connector 
Optional single sign-on 
Industry-leading security features
The Sharp BP-50C31 A3 colour photocopier is one of Sharp's newest range of office photocopiers. It offers plenty of options and upgrades making it adaptable to your growing business. The Sharp BP-50C31 optimises productivity with print speeds of 31 pages per minute and is ideal for any busy workgroup
The Sharp BP-50C31 can print and copy at speeds of up to 31 ppm in colour and black & white and you can replace toner and paper without pausing the print or copy job, so your productivity won't miss a beat.
The built-in Reversing Single Pass Feeder can scan two-sided documents at speeds of up to 80 ipm in batches of up to 100 sheets for completing large jobs quickly. 
10.1" colour LCD touchscreen
A tiltable 10.1" colour LCD touchscreen provides the ability to drag and drop frequently used icons for simple customisation of the home screen and communication lamps that show the device's status. Everyday operation is simple and intuitive; just touch, tap or swipe for instant access to every feature, function and setting, including an advanced preview feature.
6300 sheet paper capacity
A maximum paper capacity of 6,300 sheets and support for a wide range of media (up to SRA3 and 300 gsm) enables this photocopier to handle varied output requirements with ease. And a selection variety of finishing options such as saddle stitching, manual and stapleless stapling add further versatility.
Microsoft® Teams connector
The built-in Microsoft® Teams connector strengthens collaboration by providing direct and secure access for printing to or scanning from Microsoft® Teams channels, all from the device. The Synappx Go*1 mobile app enables contactless and remote printing, aligning print capabilities with the new demands of hybrid working.
Despite its many functions, the Sharp BP-50C31 achieves superb energy efficiency. The use of low-temperature-fusing toner results in vastly
reduced energy consumption. This ensures that the Sharp BP-50C31 complies with energy consumption regulations. A comprehensive range of eco-focused functions including eco-scan together with a rapid warm up time all help to save money and support environmental goals.
Fully Managed and Maintained
IT installation / staff training
Remote technical support
24/7 intelligent monitoring
All toners included
All repairs included
Preventative maintenance
5 year warranty
Sharp BP-50C31 Specifications
General
Printing
Scanning
Document Management
Finishing
General
A4 Speed Colour (pages per minute)
31 ppm
A4 Speed B/W (pages per minute)
31 ppm
A3 Speed Colour (pages per minute)
15 ppm
A3 Speed B/W (pages per minute)
15 ppm
Paper Size (Min-Max)
A6 – SRA3
Paper Weight
55 – 300 gsm
Paper Capacity
650 std – 6300 max
Display
10.1″ colour LCD tilting touchscreen
Warm-up Time
18 sec
Document Feeder Capacity
100 sheets
SSD Capacity
128 GB std | 512 GB opt
Security
Includes IP/MAC address filtering, protocol filtering, port
data security control, user authentication, (local/LDAP/Active Directory),
WPA3 wireless, TLS 1.3 Encryption, Kerberos support
Power Requirements
220 – 240V 50/60Hz
Power Consumption
Max 1.84 kW
Dimensions (mm)
608x653x829
Weight (kg)
78
Printing
Scanning
Document Management
Finishing
Save Time and Money Today
Get a Sharp BP-50C31 Quote Now
If your thinking about how a Sharp BP-50C31 can benefit your business, Print Logic can have options for leasing, renting and outright purchase. We offer both brand new devices and fully refurbished photocopiers
We supply a range of Sharp Photocopiers to our customers around the UK and the Sharp BP-50C31 is one of our newest Sharp devices.
Please fill out our short form to get your instant free quote from our Print Logic experts
If you need your printer serviced, we are experts on a wide range of printers and photocopiers from all the major brands. Talk to one of our friendly printer experts, who'll work with you to resolve your printing issues. We pride ourselves on our customer support and saving you time and money.
We supply industry leading brands