How to change the waste toner on a Sharp photocopier
As your printer is in use, used toner builds up in the waste toner cartridge. Eventually this will need to be replaced with an empty waste toner cartridge.
We've created a handy video guide on how to change the waste toner cartridge on your Sharp MFD, which can be found further down the page. Continue reading for more detailed steps on changing the waste toner cartridge.

Your device will prompt you when the waste toner bottle is close to being full and that you'll soon need to change the waste toner. 
Print Logic will also be notified that your waste toner cartridge is almost full and we'll ensure a new cartridge is sent out to you within a few days.
Your Sharp photocopier will continue to operate normally until the waste toner cartridge is completely full, at this point it will no longer continue to print and will prompt you to change the waste toner. 
As long as you keep the device switched on, your printer will maintain the print queue and printing will continue where it left off once the waste toner cartridge has been replaced. 
Step 1 - Remove the existing waste toner
Once your new cartridge has arrived you are then ready to change out the full waste toner. 
Open the front cover on your Sharp device. The waste toner cartridge is the black box immediately in front of you, underneath the toner cartridges.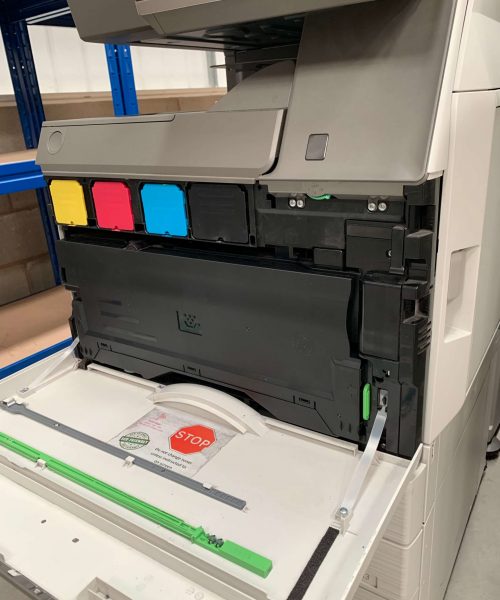 Its time to change the cartridge. To remove the waste toner press in the two lime green buttons on each side, and the waste toner cartridge will pop out. On some older Sharp models you will have a green slider in order to release the waste toner cartridge.
Take care when removing the cartridge as there are open toner ports across the top. Best practice is to immediately place the used cartridge in a bag and seal. That way if the cartridge is shaken or dropped you won't get toner everywhere.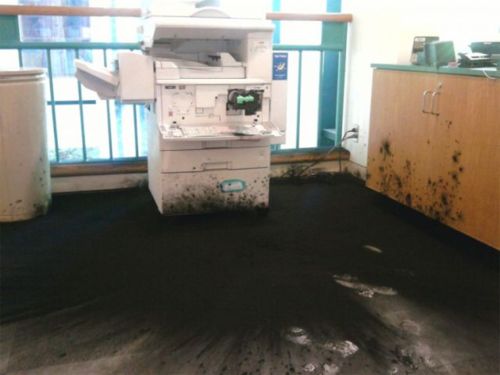 Fitting the new waste toner
Now that the old waste toner cartridge is out and safely secured, you just need to add the new empty cartridge back into your Sharp device.
Make sure the toner ports are at the top, locate the hinge points for the waste toner cartridge, match the bottom of the cartridge to those hinge points and place the cartridge in at an angle. Then just press the top in until it clicks into place. 
Once it has locked in position, close the front cover and you're done, ready to go back to printing.
Whether you have a problem with your changing your waste toner, lines on the page, photocopier error codes, funny copier noises or a paper jam, our photocopier repair service can fix your problem. We are experts in carrying out photocopier repairs for all the major brands of photocopiers, printers and plotters like Sharp, Lexmark, Xerox, Canon and many more.