Going Paperless with DocuWare: How to Become a Paperless Office
Offices today face the many challenges of information storage. Information can be held as electronic files, paper documents, or as scanned files and images. There are many different ways of storing these files: shared drives, hard drives, filing cabinets and even in email storage.
Businesses need to ensure that their documents are being managed securely and with minimal risk of damage or theft. Information often needs to be accessed quickly and from anywhere in the world, requiring one centralised storage system for businesses.
Online document management can reduce the need for mundane, unproductive tasks like printing, filing and scanning documents, and allow employees to focus on more important tasks.
Print Logic have partnered with DocuWare, a company known for providing businesses with excellent cloud document management solutions and workflow automation software. Documents can be digitised and secured, and systems implemented to better manage business information.
DocuWare can allow you to:
Quickly capture paper and electronic invoices
Assign documents for easy retrieval
Automatically match invoices to purchase orders
Avoid human error
Reduce invoice handling and eliminate manual data entry
Secure information and meet GDPR
If your business is going paperless then get in touch to see how we can help you transform your document storage for the better.

How to Become a Paperless Office in 90 Days
Increase your document security, automate your processes and reduce your required storage space by becoming a paperless office. Inspire better collaboration between employees, and mitigate the risk of lost documents due to disasters or theft. Get peace of mind, knowing that you're complying with relevant GDPR regulations and keeping your clients' information confidential.
Get in touch today to discuss making your office paperless in as little as 90 days. Download DocuWare's e-book here for a detailed roadmap for how to digitise your office and take control of your documents.
Why Should My Office be Paperless?
Paperless document storage reduces the environmental impact that businesses can have, and provides businesses with a secure, legally complaint, and centralised way of storing information.
Protecting the Environment
Not only does decreasing your paper usage have a positive impact on forests, but it also reduces energy usage by eliminating the need for scanning and printing. It also decreases the amount of office waste that ultimately ends up in a landfill site, and promotes more environmentally-friendly habits around the office.
A Smart Way to Store Documents
Digital storage is the smartest home for your documents. Documents are kept securely to minimise the risk of data breaches, and access to confidential information can more easily be controlled by management. In addition to this, audit trails can be accessed, so that businesses are aware of every download and every modification to every document.
Documents are easy to find through a 'search' function, and businesses can implement company-wide naming policies to make information very easy to find. Online document management provides businesses with a centralised storage facility that can be accessed by employees all over the world.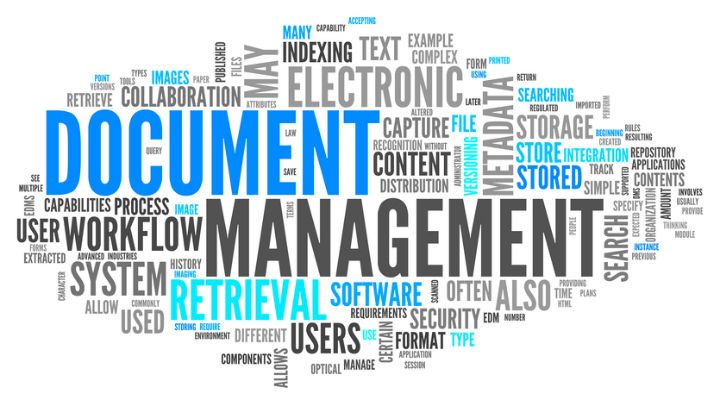 The Disadvantages of Paper-Based Processes
Using paper-based processes to manage and store your documents has a few big disadvantages. You risk losing important files, and may worry about a potential data breach as a result. In addition, a large amount of physical space is required to store paper documents, and it can more challenging to implement a system for finding required information.
The potential for loss and damage is a big reason why many businesses are moving away from paper-based processes. Files can be lost or stolen, and damaged or destroyed by natural disasters. Printers are susceptible to interference, and paper storage risks data breaches. Digital storage, on the other hand, can be used to back up documents so that files are never lost.
Printing, filing, shipping and storing paper documents accounts for a surprisingly large portion of a typical business' costs. Digital document storage can save businesses money both on direct costs like paper, ink and storage space rental, but also indirect costs such as the time spent by employees on unproductive tasks like printing and filing.
Another big drawback of using paper-based processes is that you require a physical space to store them in, which means extra rental and utilities costs for businesses. It also means that the documents can only be accessed in one location, in contrast to paperless documents which can be accessed from anywhere.
Paper documents require a manual sorting system, so that customers and employees can find everything that they need, when they need it. On the other hand, paperless documents can often be sorted automatically, and can be located easily using a search function. Fewer hours will need to be spend training new employees on how to sort and find the relevant documents.
More Difficult to Adhere to Legal Requirements
Online document management makes it easy for businesses to securely store confidential data, and adhere to data protection regulations. Businesses can view and manage every person who has accessed or edited documents, and can download an audit trail of every single click.
DocuWare for Invoice Processing
Increase your team's productivity by eliminating the need for manual invoice processing and data entry, streamlining the process to maximise efficiency in your office. Reduce your business' impact on the environment by eliminating paper invoicing and decreasing your energy consumption.
DocuWare's invoice processing system can be integrated with Oracle and Outlook to ensure that no payments are missed. Take full advantage of workflow automation and hand over the mundane decision-making of approvals to DocuWare software. Maintain strong relationships with clients, suppliers and vendors by processing invoices quickly and efficiently. Organise your invoices and use the search and retrieve function to easily find them when you need them.
Print Logic supplies Printers, Photocopiers and Document Management solutions to businesses across the UK. We supply a huge range of devices and software solutions.
In need of a digital document storage solution for your transition to a paperless office? Get in touch with Print Logic today to discuss your digitisation needs and any questions you have on DocuWare.