Sharp are one of the world's leaders in the photocopier industry. Founded in 1912, they provide innovative and original office photocopiers which are used all over the world.
Print Logic is an established Sharp Dealer with extensive experience in using Sharp photocopiers to deliver bespoke solutions to businesses across the UK.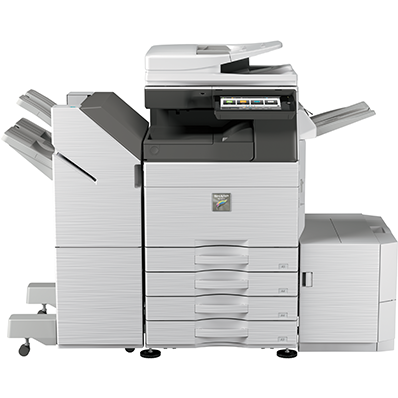 Why choose Sharp Photocopiers?
Sharp have a philosophy of designing products with the customer in mind, taking their needs into account to provide them with a solution that provides the most benefits for your budget. Our Sharp photocopiers reflect this by being some of the most flexible and configurable devices Print Logic have access to, and our printing experts utilise these features to deliver substantial-quality, cost and efficiency benefits.
Sharp's A3 and A4 colour and black and white office photocopiers are designed to meet almost all business and budget needs. They provide compact, affordable entry-level business printers with smart productivity features that are ideal for small businesses. They also offer powerful network MFPs for more demanding enterprise environments with higher printing volumes. Intelligent software solutions transform the way you approach information by giving everyone on your team easy access to the print, copy, and scan capabilities they need, where they need them.
Sharp photocopiers are designed to make life much easier. You can create high-quality documents at high speed and without any unnecessary waiting. Your Sharp photocopier will wake up when it finds you approaching and you can add to the toner and refill paper without delaying your copy or printing jobs. Easy access to everything from a large customisable touch screen, with no complicated settings or controls. You can also check the status of the photocopier at a glance in the status communication bar. Therefore, you can create, manipulate, and share everything. Get the information you need as quickly and efficiently as possible with intelligent connectivity.
Sharp is committed to safeguarding your valuable information with enterprise-grade security. Sharp photocopiers encrypt all your data and network communications to prevent any unauthorised access or malicious theft. They can block access from unauthorised applications or devices immediately, safeguarding against anyone trying to use your photocopier as a gateway to hacking into your network. Sharp photocopiers are equipped with smart self-healing technology ensures the systems can be safely restored if there is ever a problem.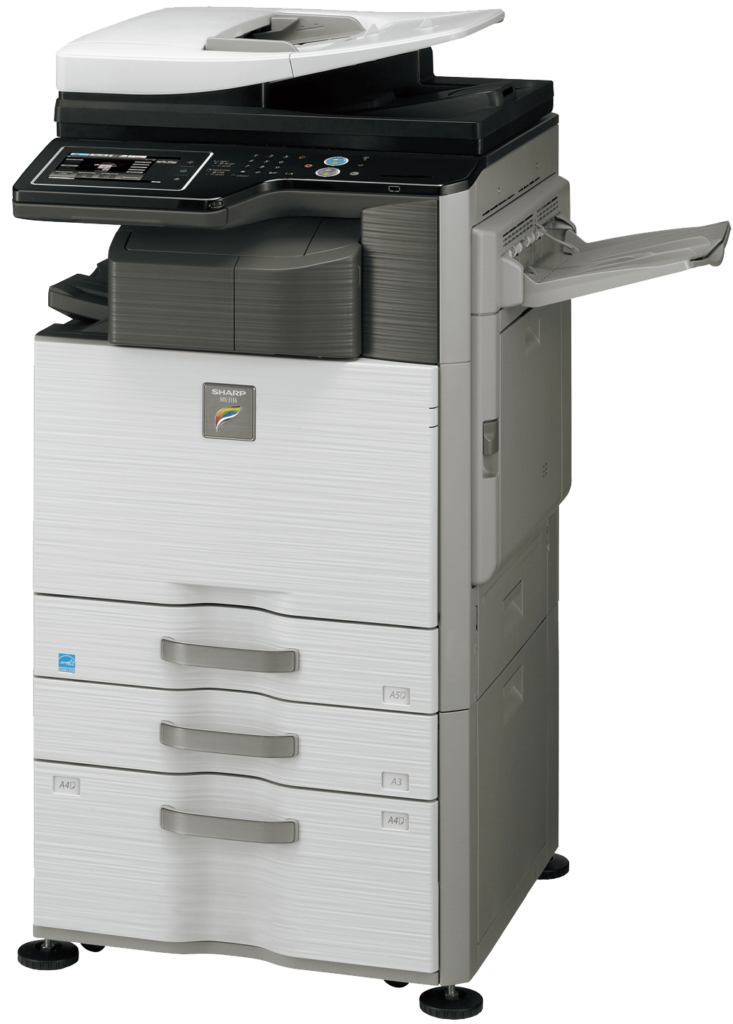 Our Sharp Photocopier Range
Print Logic can supply the entire Photocopy machine range by Sharp. We supply both brand new devices and fully refurbished photocopiers, some of our most popular devices are:
What are the benefits of Sharp Photocopiers

Print Logic's team of service technicians and support staff are experts in every Sharp photocopier. Our team regularly receive extended training directly from Sharp UK to equip us to provide technical support to our customers with Sharp copiers.
Sharp photocopier services have been designed with the end-user in mind, and have an easy to use operating system meaning users can be even more productive. Sharp photocopiers offer a wide range of features and can be further enhanced with a variety of finishing options and machine configurations. Offices with high print volumes, such as law firms, may require additional trays or punching devices for hole punching, but marketing departments or schools may require features such as in-house printed booklets. As every office environment is different and has unique requirements. Photocopiers in the Sharp range can be configured to your exact requirements.
Reliable And Long Lasting
Sharp photocopiers are robust, built to the highest standards and designed to last for tens of thousands of prints.
If you're looking for a Sharp photocopier, we offer lease or rental options on our entire range of Sharp photocopiers. Talk to one of our friendly printer experts, who'll work with you to bring you the latest technology for less. We pride ourselves on our customer support and saving you time and money.
We supply industry leading brands